Barbangelo
Verdicchio dei Castelli di Jesi
Denominazione di Origine Controllata
Classico Superiore
"Barbangelo", crasi tra il nome "Angelo" e il soprannome "Barbanera", è un Verdicchio Classico Superiore frutto della selezione delle migliori uve e imbottigliato mediamente a sei mesi dalla vendemmia. Vino fresco e al tempo stesso persistente, con l'inconfondibile sapidità e complessità del Verdicchio.
"Barbangelo" portmanteau of the name "Angelo" and the nickname "Barbanera" and the wine  Verdicchio Classico Superiore is a result of the selection of the best grapes and bottled on average six months after the harvest. It is a young wine and but at the same time persistent, with the unmistakable flavours and complexity of  Verdicchio.

 Vuoi ordinarlo o assaggiarlo?

Contattaci per un preventivo gratuito o per conoscere l'enoteca più vicina a te. Spediamo in tutta Italia e confezioniamo anche ceste, pacchi regalo e strenne.
---
Premi e riconoscimenti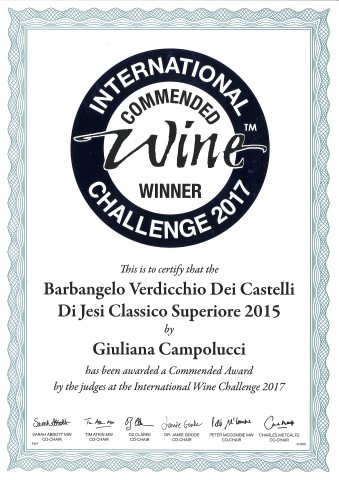 Barbangelo Verdicchio dei Castelli di Jesi Classico Superiore 2015 è stato premiato nel 2017 dall'International wine challenge, fra le più influenti competizioni di vino a livello internazionale.
---

Il vino verdicchio dei castelli di Jesi doc classico superiore Barbangelo 2015 è stato selezionato dalla guida Vinibuoni d'Italia 2017 e premiato con 4 stelle